---
Compost windrow turner for sale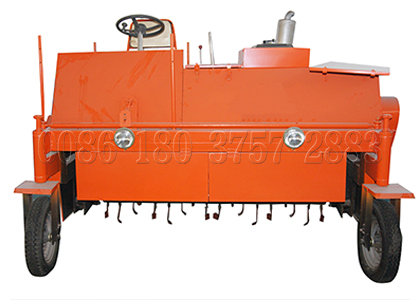 Windrow turner for sale is popular around the world. It belongs to the ground pile fermentation mode. Meanwhile, it is the most economical mode of saving soil and human resources at present. In general, the material needs to be piled up into a stack, ten the material is stirred and crushed at regular intervals by the turning machine. With the features of low-price, high fermentation rate, high-efficiency and well performance, windrow composting equipment is a reliable fertilizer machine in aerobic fermentation and organic fertilizer production. So it is a kind of sunrise industry and worthy to invest.
---
Top two types of windrow turner for sale on our brand
Windrow composting is a kind of compost making manure into organic fertilizer. They can be divided into two types in our company, crawler type compost turner (hydraulic compost turner for sale), self propelled type compost turner. Both of them belong to a kind of small scale compost turner. People can use and operate them easily.
Crawler type compost turner for sale 2020
This compost turner machine eliminates the hydraulic steering wheel type stacker. Our company owns a new product exclusively by our company in the market. It fills market gap that the large wheeled compost turner machines can not turn around in situ. No steering wheel required, the driver simply control two bars, then the machine can turn left or right, brake and 180 degrees turn around. In order to hydraulic balance of steering wheel, the height of the compost turner shaft can be automatically raised an lowered. The fertilizer pile can be forcibly turned or turned at high speed according to the moisture degree of the material.
Moreover, this product adopts soft start turning clutch (domestic similar products are used for iron to iron hard clutch, which will cause serious damage to chain, bearings and shaft). Meanwhile, equipped with front hydraulic push plate, no manual taking time to heap raw materials, drum hydraulic lifting, which greatly save the space, time, diesel, manpower and shorten the fermentation period. It is the best option for you.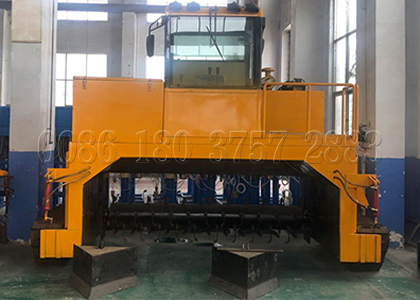 Advantages of crawler type compost turner for sale
The operation is easier and the hydraulic directional type was eliminated; save the site, artificial, diesel, shorten the working time, advance the fermentation cycle.
This product can turn over and separated by soft start.
Installed front hydraulic push plat, so it is no need to manually take the whole pile.
Cylinder hydraulic lifting. Therefore it is very easy to operate.
Adding sprayer and other auxiliary equipment are possible. By this way, it can adjust moisture content of material. To some extent, it reduces air pollution and shorten the composting time.
The crawler makes walking more smooth. Meanwhile, guaranteed safety is available.
Enclosed cab can isolate odor and high heat in the process of composting. And we can add a fan in the cab which can make you feel cool, especially in summer.
---
Moving type compost turner
Self-moving is the main engine in the production of bio organic fertilizer special equipment. That machine takes four-wheel walking design, and it can move forward, backward and turn around, is controlled by one person. The rotary knives shaft mounted under the frame of the machine is used to turn, loosen, move, finally the car pass and become a new rickety pile. The machine can not only be opened in the open space, but also be carried out in the workshop. The advance fermentation technology adopts the microbial oxygen consumption fermentation. According to the principle of oxygen consumption fermentation to design, the fermentation bacteria have enough space to function.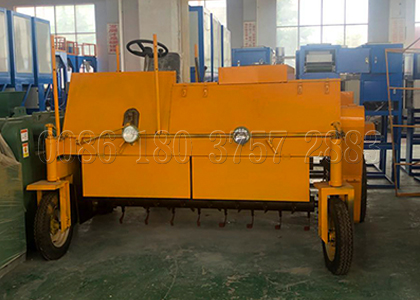 Features of self propelled compost turner about our brand
Compared with crawler type compost turner, it is more cheap for easy installation.
Farmers can use it outdoors and indoors. Therefore, it is convenient for people to use.
One worker can operate it very easily, go forward, backward and turn around.
Then the design of the machine according to the principle of aerobic fermentation. It is good for composting and producing fertilizer.
---
Why we need windrow turner for sale to turning compost pile?
Making pile as fertilizer, fermentation plays an important role in the process. However, in fermentation process, the temperature increases and decrease at irregular intervals. Then it needs you turn the pile with oxygen content to digest the harmful material in order to get organic fertilizer.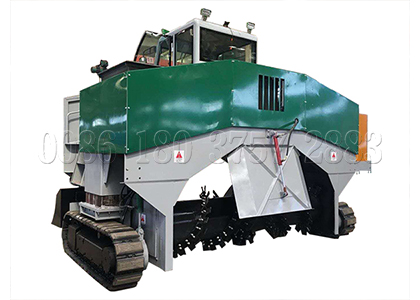 Firstly, the fermentation degree if manure may be different in different parts of the compost pile and lumped materials may exist. Therefore, you need to thoroughly turn these materials.
Secondly, the machine will well-blend these materials to decrease temperature and increase oxygen content. Based on these two points, if you have multiple compost piles to deal with or you want to ferment organic waste better, you can choose machine to turn them. In addition, each product has several specifications, we can recommend proper equipment to your by your requirements.
---
What is the price of windrow composting machine?
We can offer you an ideal price, not only on the cost, but also on the industrial development prospect. On the one hand, our company has professional teams to develop and design high equipment for our clients. As a manufacturer, we have 20 years experience in fertilizer equipment. Less maintenance and high performance can reduce the cost. What is more, we are a manufacture with an independent factory not the third party, you can get a reasonable price. On the other hands, it is a sunrise industry. As a fertilizer producer, it can help you save time and labor forces to get more benefits. At the same time, it is worthy to invest in the future.
---
How to buy windrow composting machine?
Our company can provide you with a lot of methods to purchase windrow compost equipment.
Purchase compost windrow turner online
We have our official website. Search directly on the computer, smart phone, ipad, etc. You can read our products details easily. Meanwhile, you can leave your information. Customer service staff will be online in 24 hours and help you deal with the problem quickly. If you send an inquiry to us, the salesman will contact you as soon as possible.
Buy fertilizer machine in our factory
Welcome to our factory. Our engineer will show our advanced equipment and professional technology to you. A the same time, we will explain our concept about our company to you. Then, let you know a lot culture about our company. Furthermore, strength our cooperative relationship in a short time. What is more, you can give us an offer on the spot. Saving more time to communicate is necessary.
Windrow Compost Turner Working in Animal Farm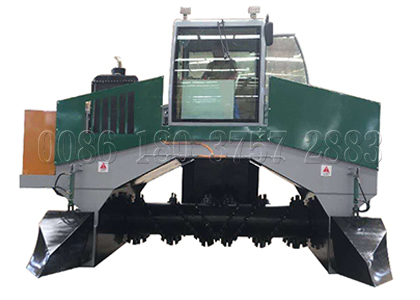 ---
Where can i buy a windrow compost turner?
Compost windrow turner for sale is very wide around the world. However, where to choose a compost windrow turner with high quality is very important. Why Henan Waste To Fertilizer Machinery Company  is you best choice?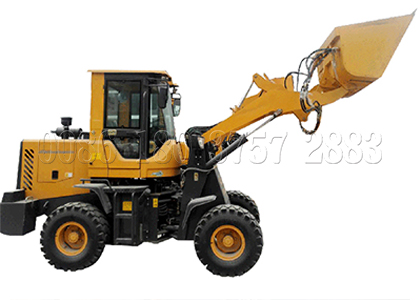 Professional technology and skills are the key to succeed. Our factory has 20 years experiences in fertilizer industry. It means that we can provide you with high quality products and first-class service.
One-stop service Based on the clients' different situations our designers can offer target programs in order to solve your practical problem.
Skilled sales teams can help you build a good connection with our engineers. Let you know more details about our windrow compost turner.
All kinds of products can be optional. Like groove type compost turner, wheel type compost turner, fermentation pot, etc. Furthermore, customized service we can offer.
---