---
How to define cow dung fertilizer machine?
Our cow dung fertilizer machine can make cattle manure compost or waste compost into organic fertilizer with the shape of powder and pellets. Reportedly, traditional cow dung making fertilizer can cost more long time. To some extent, it is not only harmful to plants and soil, but also caused environmental problems. Compared with using Henan Waste To Fertilizer Machinery Company's  machine to convert cow dung into fertilizer, the shorter time cost. At the same time, it is a kind of environment friendly organic fertilizer. Therefore, Henan Waste To Fertilizer Machinery Company will be the best choice.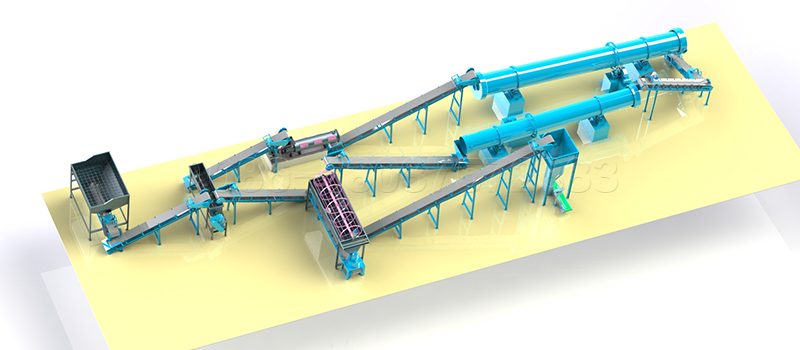 ---
Top 2 kinds cow manure fertilizer production line
Cow dung fertilizer convert project is a major engineering for ecological and modern agriculture. Our company is always to helping farmers make more money through humus technology. Obviously, here can offer tow kinds of cow dung fertilizer product line for your option, cow manure powder organic fertilizer line and disc granulation production line. Both them are popular in development of agriculture around the world.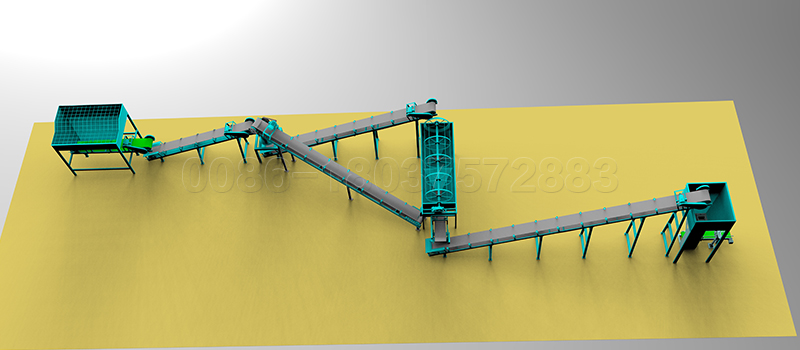 Simple and economic cow powder powder making machine
This fertilizer product line has a simple and easy operation. It mainly produce the powder fertilize to improve the nutrients and increase output. The site area very small. The price is very worthy and you can have big profits. Therefore, it a kind of economic and commercial cow manure powder making machine.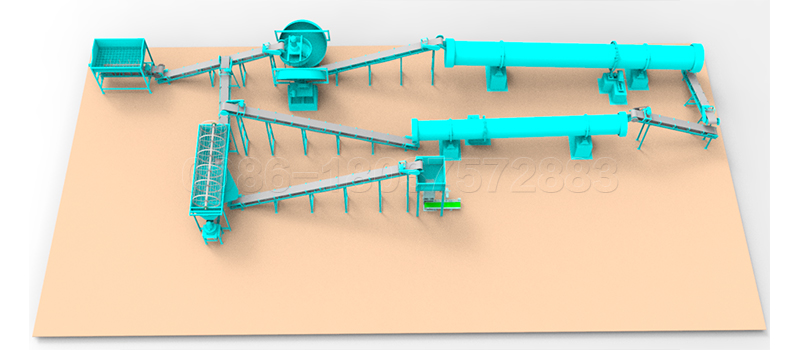 Cow dung fertilizer pellets production line
Obviously, the procedure for making cow dung as fertilizer in a pellet state is very complex. The amount of machine is a lot. Meanwhile, auxiliary equipment, coating machine, screen machine etc, can be increased or reduced following your needs. Compared with cow dung powder, it keeps fertilizer efficiency for a long time and makes full use of nutrients to make plants and soil in good condition.
---
Why cow dung is a good organic fertilizer for farmers?
Relatively speaking, manure fertilizer belong to a kind of raw material of organic fertilizer. However, in terms of manure effect or nutrient elements, chicken manure is the highest among pig manure, cow dung, chicken manure. Definitely, different kind manures have different function and are suitable different soil or plants. Cow dung is the most modest fertilizer. Because a cattle feed mainly on forage. Cow dung is given priority to with cellulose, natural NPK content is less, broadcasting in the field will not cause excessive fertilizer effect, harmful to the plant. However, in order to improve nutrition, it needs to make composting before as fertilizer.
---
What should be prepared for crushing in the process of cow manure fertilizer production line?
Compost turning equipment for cow manure composting
Making cow manure to organic fertilizer divides mainly into 2 parts: pre-processing and granule producing. The main equipment on the pre-process is cow manure compost turner. This process is very important for the whole cow manure fertilizer machine. However, how to make fermented fertilizer from cow dung, please refer to the details below.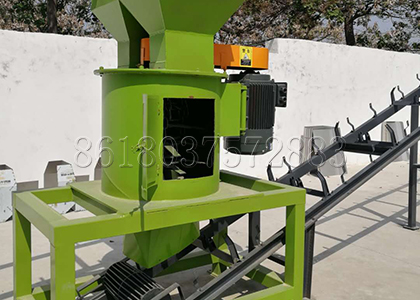 The first step is dewatering fresh cow dung to dry cow manure by solid liquid separator.
At first, adding some straw or sawdust into the fresh cow manure to adjust C/N ratio and water content. In order to get dry cattle manure, you need dewatering machine to reduce the water under less than 10%.
Then choosing a concrete ground to place cow manure and equipment.
You should make the cow dung into the long strip. Then using the moving type compost turner to turn, loosen, move, finally the car pass and becomes a new rickety pile. After composting for more than 3-5 days, the cow manure composting can be used as fertilizer to plants and soil.
---
Recommended Purchasing cow dung fertilizer Machine Plans (Solutions)
There are a lot of different kinds of fertilizer machine to provide for you in our company. How to choose the suitable one for yourself? Here will give you some solutions. From 500kg to 20ts per hours, what capacity do you need?
Different capacity of manure processing decide to buy which type
The fertilizer machines in Henan Waste To Fertilizer Machinery Company are divided by its capacity of an hour, a day, a week,a month. However, the main way it is based on the capacity of an hour. In generally, providing details of using equipment including raw material (cow dung, chicken manure, sheep manure, etc), site area, the need of cow dung powder or pellets. For cow manure of different capacity, our professional salesman can equip or design different machine for your needs. On the other hand, the capital is very important factor. If you don't have enough money to buy. Salesman can design more economic fertilizer production line for you.
For example, for small capacity of cow manure processing , cattle manure powder about 1t/h, cow manure powder making machine is the best choice. It is most economic and practical in our company. The process is very simple–vertical crushers →screen machine→packing machine. How do you think about it?
For large capacity of cow manure processing or organic fertilizer production line, cow dung pellets about 10-15t/h, new type organic fertilizer production line is worthy to ow. Relatively the process is complex.
---
Several kinds of service can share with you about cow dung fertilizer machine
As a cow dung fertilizer machine production line supplier in China, we can provide you with professional guidance both on option of suitable machine and installation. Meanwhile, we can offer full solution about the project. In our company, professional engineers and salesman team to help you get accurate details about our products. Multiple selection is available.
Full training service is possible
For cow manure fertilizer machine production line, the process of installation is a little complex. Therefore, right installation and use is important so that arranging engineers to teach is necessary. The noticeable details of the process of its working can be told immediately on the form of face to face. What is more, how to deal with the emergency in handling the cow dung.
Special customized service on the cow dung project
As a professional manure machine products line manufacture, we focus on industry for more than 20 years. Therefore, customized service can help us make clients satisfied. The color, output, using sit area is designed according to related information, welcome to send inquires.
---