Fertilizer rotary drying machine for sale
The rotary dryer machine is a new generation of fertilizer dryer to dry organic fertilizer, such as chicken manure, cow dung, goat manure, horse manure and other organic waste. It is suitable for dry powder materials and granule materials. With the unique advantages of large drying capacity, stable operation, low energy consumption and easy operation, rotary drum drying machine is the ideal fertilizer equipment for drying fertilizer production. That means it plays an important role in the process of making fertilizer production. What is more, our rotary drum drying machine adopts advanced designs to make your drying process more efficient and convenient. At the same times, our sales manager can provide you with best solution according to your needs. Welcome to visit our factory.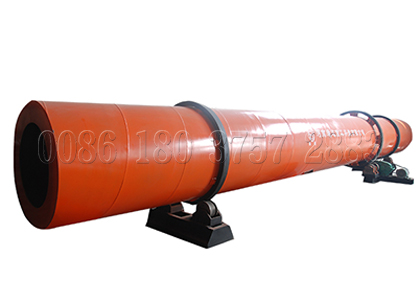 ---
How to dry up chicken manure by rotary dryer machine?
Obviously, the work principle of rotary dryer machine is very simple. Because rotary drum dryer is mainly composed of rotary, lifting blade, transmission device, supporting device and sealing ring.
Firstly, wet material you can send it to hopper by belt conveyor or bucket elevator. Then the materials enters the feeding and goes through the feeding tube. The slant of the feeding pipe is larger than the natural inclination of the material, so that the material flows into the dryer smoothly. The cylinder of dryer is a rotating cylinder slightly tilted to the horizontal line.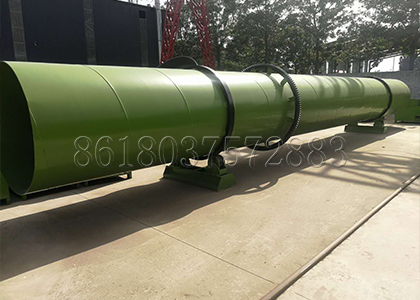 Secondly, you can add the material from the higher end, the heat carrier is entered at the low end with the material in reverse contact; there are also heat carriers and materials that flow into the tube together. With the rotation of the cylinder the material is operated by gravity to the lower end.
Finally, in the process of moving forward, the wet materials you can directly or indirectly heat by the heat carriers, so that the wet materials you can dry and then send out by belt conveyor or spiral conveyor to the discharge end.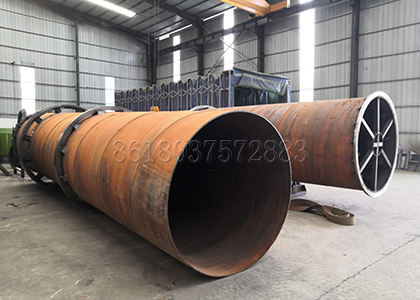 ---
Why our rotary drying machine can attract you to purchase?
There are many reasons for you to choose our fertilizer drying machine.
Rational distribution and design of the lifting plate ensure high utilization rate of heat energy.
Wide application range, our rotary drying machine has a strong adaptability of materials and we can use it to dry various of materials.
The hot air passes through the rotary drum body with small resistance, thus it has low consumption.
Continuous and reliable operation. We can choose different dryer machine according to different fertilizer capacity. Therefore, for businessmen it is optional to dry materials.
Less fault, convenient maintenance and low repair cost, long service life. Those prominent features can help you reduce cost so that you can get big benefits from buying our fertilizer rotary dryer machine.
Realizing mechanization and automation operation with good drying effect. To some extent, it can improve our drying efficiency and reduce labor cost.
---
Where can you use rotary dryer machine in your organic fertilizer manufacturing process ?
To be honest, it plays an important role in fertilizer production whether organic fertilizer or compound fertilizer. For the whole organic fertilizer production line, we divide it into 3 key parts: fermentation, granulating process and packing. However, how we use rotary dryer machine is very important thing to get high quality fertilizer in the whole production line.
Drying raw materials before fermentation. Aiming to different raw materials, we can recommend you different fertilizer dryer machine. In order to help you reduce the water content of raw materials to make fermentation by in vessel composting machine, the drying process is necessary. 30% moisture of raw material is allowed to make compost by compost turner or fermentation tank. Finally, this machine can help you make it.
Using it behind granulator. For some granulator, it belongs to wet granulation technology. Therefore, the pellets have more moisture. In order to transport conveniently and improve work efficiency, you can use this kind of machine.
---
Fertilizer rotary drying machine wide applications
Rotary dryer equipment can dry materials, whose moisture content can be about 65%. After the drying process, we can reduce water content of materials to 5%-10%. Then, we can go to the next step. Meanwhile, where can be suitable for using drying machine?
At fertilizer production plants
For your fertilizer production line whether organic fertilizer or compound fertilizer, it is a prompter who can help you get high quality fertilizer pellets. For using this machine, the pellets can be more convenient to transport and store. It means that it saves your time cost to get dry fertilizer. So it is the best choice for your fertilizer plants.
At your farm, such as chicken farm, horse farm and so on.
For your farm, it is a good place to use fertilizer dryer machine. In order to reduce pollution, you can process manure into fertilizer timely and effectively. By this way, you can get more benefits and change your life.
---
What do you need to do after drying process in organic fertilizer production line?
Dust removal process
The process of dust removal can help you collect dust in fertilizer so that you can get high quality fertilizer. There are two types of dust collectors to provide for you, cyclone dust collector, water curtain dust collector. Different dust collectors can adopt different technologies to deal with dust problem.
Cooling process of fertilizer production line
Cooling process can cool the fertilizer with certain temperature and grain size and you can use itwith the dryer. It plays an important role in the process of making fertilizer. After the process, it can improve the work efficiency of the whole system to transport fertilizer quickly. Our company can provide rotary drum cooling machine to help you cool powdery and granular materials. This machine has simple structure, good stability and reliable operation.
Packing process in the process of making fertilizer
Making your manure into fertilizer commercially, a packing machine can help you bag them efficiently. Therefore, our company can provide two kinds of fertilizer bagging machine, single bucket automatic packing scale and double bucket automatic packing scale. Both of them have high quality to meet your needs.