---
What system is the ideal of waste management for farm waste operations?
How to achieve zero farm waste management is the facing significant problem in fertilizer industry. Nowadays, our company designs best solution of farm waste disposal to completely deal with the problem. Farm waste is regarded as an important kind of material of organic fertilizer. To some extent, it can not only help people solve environmental problem, but also make waste to wealth. There are two kinds of production lines to make it into organic fertilizer, farm waste compost production line and farm waste granulation production line. They are popular around the world. Which one is the best choice for you to make farm waste into fertilizer.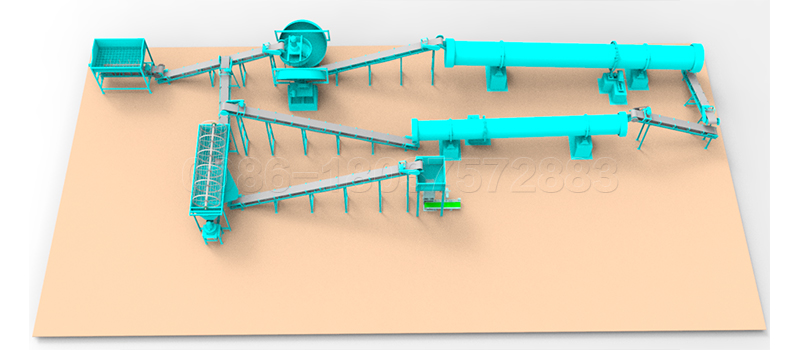 ---
Information about the material of farm waste can be suitable for farm waste disposal
Farm waste refers to animal waste or manure from dairy, pig, horse, chicken, poultry farm and waste vegetable, fruit, crops farm. The animal waste contains much organic matters and nutrients elements, which decides its fertilizer value in making organic fertilizer. On the other hand, waste from vegetables and fruits farm includes small branches, which can also be used for making farm waste compost. For small farm of 100 cows, farm waste compost disposal is enough. If you have a large farm, you had better use the whole farm waste disposal including granular process to make commercial organic fertilizer and sell them to get money. Therefore, it can bring extra wealth. What is more, suitable farm waste material can reduce the time of test. Therefore, how to deal with those waste by farm waste disposal becomes a necessary for ecological farm construction.
---
Why should we immediately dispose organic waste on the farm by farm waste disposal?
Obviously, it is important for both animal farm and vegetable farm to deal with waste timely. Because farm waste not only occupies much space, but also may produce odor and cause pollution. In order to fully utilize farm waste, our company recommends that composting is your best choice. For one thing, pathogens, seeds and eggs will be killed during composting, which can guarantee the harmlessness of farm waste. For the other things, microorganisms will convert organic matter into soil-like substance-humus, which can provide nutrients to soil and plants. Therefore, to deal with the farm waste timely is the best choice.
---
How to start small scale organic fertiliser plant in your own farm?
What solution can our factory provide easily to set up small scale organic fertilizer plant? As mentioned above, there are two kinds of fertilizer production lines to apply for your inference.
Farm waste composting
It is a natural aerobic process, which can speed the decompose of organic matter. There are three types composting ways, including windrows, grooves, and automatic composting equipment.
Windrow type: Pile farm waste up in long rows, right height (according to the requirement of different compost turner), weight, and width depends on the space, besides concrete ground and shelter. In addition, if you have large scale farm waste to dispose, you can adopt windrow composting equipment. And the width of compost pile is decided by model of composting equipment.
Groove form: It requires you to build fermentation grooves. Each of groove with three rectangular walls has different rules to place. By this way, it is easy to install and convenient to operate for its automatic function. It always uses large scale compost turner machine to make compost.
Fully automatic fermentation tank: Compared with other ways, farmers use this fertilizer compost machine which is less harmful to the environment. For its closed fermentation, it has no pollution to our environment. Meanwhile, the covering area is less (fermentation machine only covers an area of 10-30 square meters). Moreover, it can automatically control the process from start to end. However, it is a little expensive organic fertilize fermentation pot in our company.
---
Why our machines can help you make commercial organic fertilizer from farm waste?
Produce best quality of finished fertilizer. Our company has 20 years experiences in industry. We have the professional solution to help you solve all the problem in producing fertilizer. And the resulting fertilizer produced by our farm waste disposal riches in various nutritive components with the content of above 6%. It includes nitrogen, phosphorous, potassium, etc. Its content of organic matters is above 35%, both of which are higher than national standard.
Available high capacit
Compared with traditional compost method, it is more suitable for making commercial fertilizer. Farm waste disposal can short (compost) time to 15 – 20 days, even in a week. Meanwhile, it can increase N/C content to improve the growth of plants and soil. What is more, the capacity can be easily reached with little labor. Therefore, for an annual production capacity of 20000 tons of organic fertilizer, our engineers can give you a reasonable solution or plan and make it come true.
Professional fertilizer production technology
Our engineers have advanced skills in making fertilizer machine that we have high reputation at home and abroad. Meanwhile, our products can be sold around the world. If you have any question, please contact us as soon as possible. Our sales manager will reply you in a minute.
---