---
Fertilizer double roller extrusion granulating machine for sale in 2019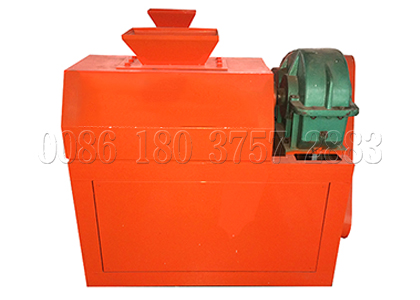 Double roller extrusion granulator is suitable for producing high , medium and low concentrations of compound fertilizer. It has the advantages of advanced technology, reasonable design, compact structure, novelty ans utility, low energy consumption. Meanwhile, it plays an important role in compound fertilizer production line. This series of roller granulators, the shape and size of ball socket which is rolled and formed at one time on the roller sheet can be customer's requirements. And there are a wide range of options, pillow shape, semicircle shape, stick shape, pill shape, walnut shape, flat ball shape and square bar shape. In addition, it can work under normal temperature, but yield high granulation ratio up 85%. Therefore, it is a kind of fertilizer facility with high work efficiency at low price in our company. What do you think about our double roller granulator machine?
Technical parameters of double roller fertiliser granulator
| Model | Power(kw) | Granule Diameter(mm) | Roller Sheet Size(mm) | Dimensions(mm) |
| --- | --- | --- | --- | --- |
| JZ-1T | Granule Diameter less than 4.5 mm: 11 Diameter more than 4.5 mm: 15 | 3-10 | 150*220 | 1450*800*1450 |
| JZ-1.5T | Granule Diameter less than 4.5 mm: 18.5 Diameter more than 4.5 mm: 22 | 3-10 | 150*300 | 1450*850*1500 |
| JZ-2T | Granule Diameter less than 4.5 mm: 22 Diameter more than 4.5 mm: 30 | 3-10 | 185*300 | 1630*850*1650 |
| JZ-3T | Granule Diameter less than 4.5 mm: 37 Diameter more than 4.5 mm: 45 | 3-10 | 300*300 | 1850*1100*2050 |
---
New types double roller extrusion granulator for sale in our company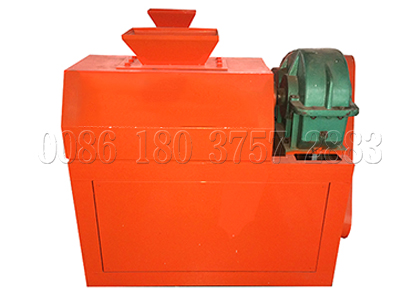 It is the new version of double roller extrusion granulator in our company. The function of new type one is the same as traditional one. Both of them adopt dry granulation method to produce compound fertilizer. However, new version has different characteristics by comparison. Firstly, we can add mixing device to the feeding inlet in order to ensure uniform feeding with uniform speed. Secondly, we can equip the main frame of the box with self cleaning device to prevent material from sticking to the roller sheet. Thirdly, the adjustment of roller gap adopts step-by-step variable gear adjustment to ensure that clearance is well proportioned and the operation is convenient. Finally, adjusting roller sheet adopts adjusting spline inside the gear to ensure that the pair is neat and not misplaced. In a word, those strengths decide our products have high quality around the world. So, why not think about it?
Main technical parameter of new type double roller granulator
| Model | Power (kw) | Roller Sheet Size(mm) | Feeding Materials Size(mm) | Capacity(t/h) | Dimension(mm) |
| --- | --- | --- | --- | --- | --- |
| XDJZ-IT | 15 | 137*200 | 370*350 | 0.8-1.2 | 1100*630*1470 |
---
The advantages of roller granulator in our company
Compared with other fertilizer equipment company, our professional engineer use advanced and professional technology to produce double roller press fertilizer equipment, like dry granulation method. There are several unique and multi-functional features to make you learn more about our roller compactor granulator.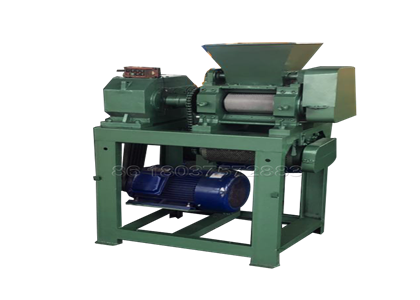 No dry process such as 2%-5% moisture content fertilizer granulating, one- step forming in normal temperature granulating.
Saving energy and cost, no waste water or gas emission.
Compact structure, easy and stable operation, easy maintenance
Press roller adopt new metal which is resistant to corrosion, wear and impact.
We can design the press rollers to make different shapes and sizes of materials
Wide application to raw materials like compound fertilizer, which we can use to process compound fertilizer of various concentrations (including organic fertilizer, inorganic fertilizer, biological fertilizer and magnetic fertilizer)
Popular in domestic fertilizer series production such as, ammonium bicarbonate fertilizer, ammonium persulfate fertilize, NPK fertilizer, and son on.
Based on those evident strength, why not come to visit our factory?
---
The details of work principle of double roller granulator for sale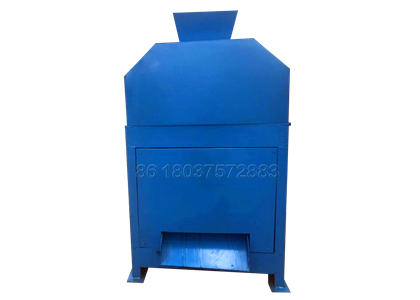 The motor drives triangle belt, belt pulley, and speed reducer, making the granulator machine works. The mixed materials are fed from the feeding hopper, pass through the counter-rotating rollers, and are extruded into slices under the strong extrusion force. Through the driving chain, the power is transferred from the press rollers and screened to get the required granular fertilizer. The granular fertilizer are discharged fro the outlet, while powdery materials are returned to be extruded. Then the process of granulating is finished completely.
---
How to operate a double roller press granulator to get high quality pellets?
After you feed raw materials into the granulator, the materials will move to the two roller shafts because of the gravity.
Driven by the motor and reducer, the counter-rotating roller shafts will press the materials with strong power. And the strong extrusion can shape the materials into big plates. There are many grooves in the roller sheet, and groove shapes decide the pellet shapes.
Through the driving chain, the shaped plates many be send from roller sheet to the crushing room.
It can crush the shaped plates into oval pellets. And the finished pellets will get out from the outlet.
---
What benefits can you get from dry type double roller granulation machine?
First of all, high quality roller press granulator at reasonable price is optional. Therefore, in our company you use low consumption get best roller press granulator machine.
There is no need of drying facilities in our company. In general, people can use vapor granulation widely in granulating while the finished dry pellets must wipe off the water by drying machine. To some extent, it reduces or saves the cost of making fertilizer.
High granulating rate up to 85% can help you reduce material waste and make the full use of material
No pollution to environment in the whole process. It only uses electricity, which won't pollute the environment. Meanwhile , it reduce the pollution for some special materials
---
Why choose our double roller granulator or choose our company as manufacturer?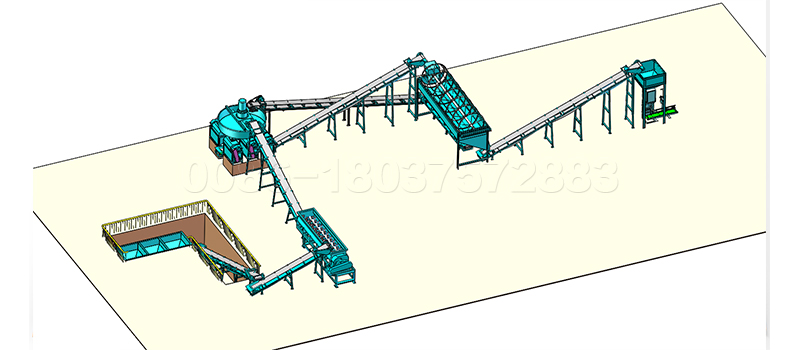 We have devoted ourselves to produce or design of making fertilizer machine in fertilizer industry for over 20 years. We have professional team including salesman, engineers to serve for your requirements. In order to satisfy you completely, we provides you with concrete and high quality service. Meanwhile, high quality double roller granulator with little maintenance can be optional. In addition, to some extend affordable dry granulation roller compaction can help you reduce investment cost. Dry granulation roller compaction cost is very reasonable, because the roller sheets of granulators are all made by ourselves. Therefore, you can choose to change the pattern of the sheets to meet you specific production needs, this is so much more convenient than other suppliers. Finally, we have a big market around the world, no matter where you are from, India, Africa or Turkey, the USA, or any other countries, we can delivery powder pellet press.
---