---
Compost making machine in large scale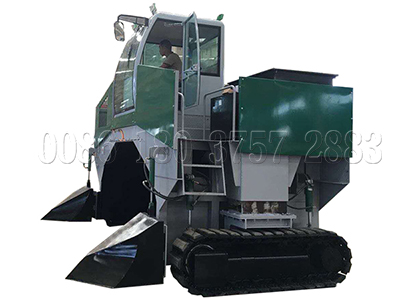 Large scale compost turner machine is a kind of manure turner with big capacity to deal with organic waste composting and reduce composting period. We can use it for the fermentation of livestock manure, sludge and garbage, filter mud from sugar mill, worse slag cake and straw sawdust and other organic waste. The machine we can widely used in organic fertilizer plant, compound fertilizer plant, sludge and garbage plant, horticultural farm and bisporus plant for fermentation and removal of water. What is more, this kind of facilities aid in the decomposition or organic waste and manure, then make manure into fertilizer quickly. Compared with small scale compost turner machine, large scale compost turner machine is characterized by high speed, high output and large area production. In addition, large scale composting equipment plays an important role in fertilizer production line.
---
Different types of large scale compost making machine for sale
Obviously, different large scale composting equipment have different features in our company. If you have any problem about our products, please send inquiry to us, our sales manager will provide professional advice for you. Besides, there are three types about our large scale compost turner machine for sale.
Large scale groove type compost turner for sale 
It is usually called rail type compost turner, track type compost turner, turning machine etc.  It installs two rail on the two sides of the groove to move large scale groove compost turner. Before composting, you should put manure or piles into the groove. The double paddle groove type mixer produced by our company has 3 national patents. The span can be between 3 and 30 meters and the height can be 0.8-1.8 meters. Compost speed can reach 1 m per min. Meanwhile, we have double-groove type and half-groove type to meet the customers' different needs. And there are a wide range of models, and the function configuration is uneven. What is more, adding auxiliary equipment, like water spray system is possible.
Performance features of large scale groove type compost turner for sale
Adopting hydraulic control system when manufacturing, by which the organic materials are turned up and down, and mixed with microbial agents more evenly. To some extent, it ensures that every detailed parts in the organic materials are fully contacted with air , hastening the decomposition speed.
Its outer body is sturdy and durable. The whole turner machine runs smoothly. It has high working efficiency so that organic materials can be composted and turned thoroughly in the workshop or filed.
Our groove type hydraulic compost turner machine is centralized controlled  by control cabinet, so being operated manually or automatically is achievable.
It makes full use f underground space design with deep pools and new technology for long distance turning, and utilizes the limited ground area to make harmless treatment of organic wastes.
The fertilizer turner machine is with compact structure, advanced technology and unique pool-type design.
---
Commercial wheel type compost turner for sale 2019
It can be suitable for the high turning depth which can be 1.5-3 m. The largest turning span can be 30m. and the output can reach up to 20 tons. It adopts unique energy efficient transmission mechanism, and the energy consumption of the same operating volume is 70% lower than that of the traditional turning equipment. In addition, the turning speed is in symmetry, and under the displacement of the governor shift trolley, there is no dead angle. And it is equipment with fully automated electrical control system, when the turner is working without the need for an operator. Furthermore, it can make mobile machine match to muti-slot. It is very convenient in using to improve the permeability of raw materials which makes the material fluffy and elastic. Finally, making manure into organic fertilizer is very quick.
Features of automatic wheel type compost turner for sale
Hydraulic lifting system can make turning wheel go up and down automatically, ensuring barrier-free movement of the machine
Control cabinet centralized control, manual or automatic control functions can be realized.
Speed-regulating trolley can shift left and right, achieving the big span composting with low energy consumption.
Compact structure and advanced technology for easy and efficient compost making.
Wheel teeth is sturdy and durable, better for smashing and mixing the organic materials.
Different turning spans can be customized according to customers' request.
---
Large scale chain plate type compost turner for sale 2019
It is suitable fr aerobic composting of organic solid waste, such as livestock and poultry manure, sludge and garbage, and straw and so on. Its walking system adopts frequency conversion speed regulation, so it has characteristics of good adaptability to different materials, smooth operation, high turnover efficiency and product quality. Variable frequency speed control system can be well adapted to the change of working load. According to the material resistance, the sped of walking can be adjusted flexibly to make the equipment more adaptable and flexible. Optional transfer vehicle can realize the use of multi-groove equipment. Under the condition of capability of the equipment, the production scale can be expanded and the value of the equipment can be increased by adding the fermentation groove.
Unique features of chain plate type compost turner
Unique design: We adopt the bracket structure with chain drive and rolling support, which has small turning resistance and saves electricity and energy. It is suitable for deep groove operation.
The engineer equips flexible tension and elastic shock absorber with flip-flop bracket to protect transmission system and working parts.
The turning pallet is equipped with a removable wear-resistant curved tooth blade, which has strong crushing ability and good stack oxygen filling effect.
When flipping, the material stays on the tray for a long time, disperses at a high level, contacts with the air sufficiently, and is easy to precipitate.
Through horizontal and vertical displacement, it is possible to realize the turnover operation at any position in the tank.
The lifting and working parts are controlled by hydraulic system, flexible and safe.
Remote control of the machine's advance, lateral movement ,flip and quick astern can be done remotely to improve the operating environment.
Through-type material distributor, automatic discharging device, solar fermentation chamber and ventilation and aeration system can be selected.
Equipped with transfer machine to change groove, it can realize multi slot operation of a turn over machine and save investment.
---
Reasonable price of grooved type compost turner machine for sale 
Our grooved type compost turner machine is an economic choice for your large scale farms or large scale fertilizer plants. We manufacture it with high-quality materials and advanced designs for its compost effect. However, compared with other compost machine, groove type compost turner is more economic for its convenience. Meanwhile, high production capacity is available. In addition, we can also provide customized service for you, whether high materials or different colors of the machine. We can meet your requirements. Affordable price can be optional in our company.
---
How to compost on a large scale poultry manure?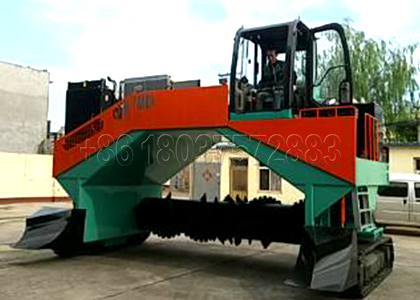 Large scale compost machines are automatic equipment to make poultry manure into fertilizer. Before composting, it is applicable for you to crush some straw powders and adding them into organic fertilizer. Then put them into a big groove, by using large scale compost turner to turn, loose, crush and mix poultry manure is necessary. During the process of composting, adding other nutrients in the poultry manure, it can improve fertilizer effect. Therefore, large scale composting systems and working methods are so easy to operate. Finally, it will be a best choice for you.
---