---
What is our brand organic fertilizer production line?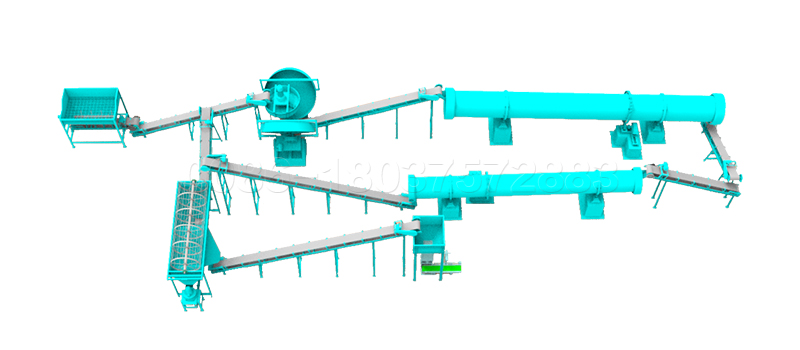 Organic fertilizer production line is a kind of fertilizer production line, which is mainly process organic waster, animal manure into organic fertilizer. Honestly speaking, compared with compound production line, it is more complicated. In generally, the whole production line includes fertilizer compost turner, fertilizer crusher, fertilizer mixer, granulator, screening machine, fertilizer drying and cooling machine, fertilizer cyclone dust collector, coating machine, packing scale. However, some fertilizer machine is auxiliary equipment which is optional in using. In addition, our company can provide small scale organic fertilizer process like 1-3t/h and large scale organic fertilizer production line like 15-25t/h. Moreover, middle scale organic fertilizer producing line is available, for example 5-15 t/h.
Besides, there are different organic fertilizer production line flow to provide. One is organic powder fertilizer production line. Another is granular organic making line. Both of them can help you get high quality organic fertilizer by using  fertilizer production line. Which one do you need? Please tell me as soon as possible.
---
What are the materials needed to make organic fertilizer?
Generally speaking, organic fertilizer can be called farm fertilizer, which is good for improving the development of ecological agriculture.
As we known, organic fertilizer has many kinds, wide source and long fertilizer effect. Most of the nutrient elements are contained in organic fertilizers. However, it is difficult for plants and crops to use directly. After composting, it can release the nutrients to improve soil structure and land productivity. What is more, it can purify soil ecological environment and guarantee high yield of plants. It is irreplaceable fertilizer for plants and soil, which is commercial organic fertilizers ad farm manure. In generally, the materials of organic can be divided into several types:
Agriculture waste: Such as straw, soybean meal, cotton meal , etc.
Livestock and poultry feces: Such as chicken manure, cattle, sheep and horse manure, rabbit manure.
Industrial waster: Such as wine less, vinegar lees, cassava lees, sugar lees, furfural lees, etc
Urban sludge: Such as river silt, sewage sludge, etc.
---
 Two types organic fertilizer production line with high quality
Obviously, in terms of the shape of organic fertilizer, there are two types fertilizer production process in our company. For example, powder organic fertilizer production line, granular organic fertilizer manufacturing process. Now, let us talk about them specifically.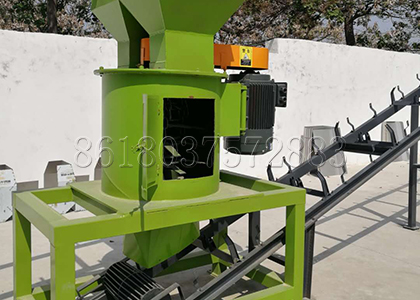 Powder making of organic fertilizer 
The process of organic manure powder is one of the simplest organic fertilizer system compared with the complete production line in our factory. It refers to manufacture organic substance into fine powder fertilizer. The whole production line flow includes fertilizer turning machine, fertilizer crusher and mixer, screening machine, bagging machine. The production line can spend less money for its less labor force cost. However, if you want to reduce more, replacing fertilizer bagging machine using labor is available. The fertilizer capacity can be changed from 1t/h to 20t/h. Our sales manager will offer different solution to solve the difficult you are facing. Which is the better for you, please tell us in time.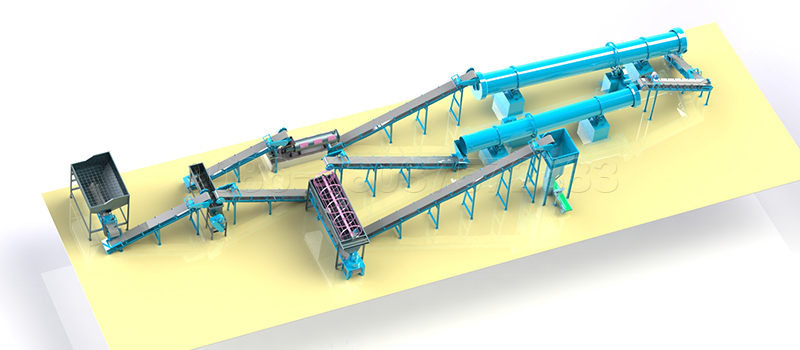 Organic fertilizer pellet production line for sale
As for granular organic fertilizer production process, it is more complicated than powder making of organic fertilizer flow. Nowadays, pellets fertilize is more and more popular around the world. It is more easily to use for its heavy weight and add some inorganic elements in fertilizer improving the effectiveness. If the powder fertilizer do that, it is easy to moisture absorption and agglomeration. What is more, complete making granular process have three important steps.
Firstly, the preparation of organic compost for agriculture, it is the pre-treating process in the whole fertilizer line. You need use organic fertilizer compost turner to make organic fertilizer compost. The second is the pelletized organic fertilizer process which demands organic fertilizer granulator, fertilizer drying and cooling machine. The last is post processing which needs fertilizer screening machine, organic fertilizer polishing machine, fertilizer bagging equipment for sale. Meanwhile, our factory supports customized products. If you have any demands, please let us know quickly.
---
What is a useful way to recycle organic waste?
Generally speaking, the material of organic waste is a kind of making organic fertilizer. How to deal with those organic waste becomes a key to development modern ecological agriculture. Aiming to the phenomenon, Henan Waste To Fertilizer Machinery Company designs organic waste production line to recycle organic waste and protect our environment from agriculture pollution. Meanwhile, for bio waste, we offer bio waste production line for you to making organic fertilizer. To some extent, the production line flow between them is the same. The needed machines for making organic fertilizer are equal. How do you think? Please tell me your idea to me.
---
How to produce organic fertilizer by organic fertilizer production line?
Before preparing organic fertilizer manufacturing machine, the most important thing is that you should know what kind of raw materials can be used to make organic fertilizer. Form the whole passage, we can know a lot about material. Now, give an important example to let you know how to make organic fertilizer with complete organic fertilizer production line, like organic manure.
Organic materials fermentation process 
Fermentation is the key step process in the process of organic fertilizer production line. It can help you kill the pests and diseases in a short time. Compared with traditional method, it help you reduce the harm to the plants and soil and absorb more nutrients form organic manure. Furthermore, after manure fermentation, it is good for protecting our environment from manure pollution. Therefore, using our compost turner can decrease the time from 15 to 20 days. Meanwhile, there are several types of compost machine can be offered, such as groove type compost turner, wheel type compost turner, forklift compost turner,moving type compost turner, organic fertilizer fermentation pot, and so on. Which kind is suitable for you, please tell me as soon as possible.
---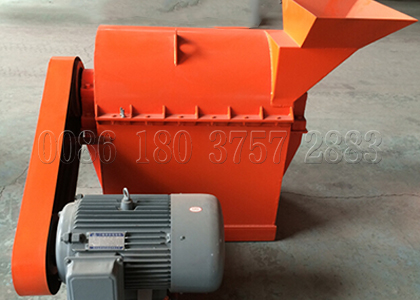 Organic fermented materials crushing process
Fertilizer crushing equipment plays an important roe in the whole organic fertilizer production project. You should crush straw, manure before fermentation. After the crushing process by crushing machine, it can build a good foundation for manure fertilizer pelleting process. In addition, our company can provide organic crusher for you to produce quality powder fertilizer.
Organic crushed materials mixing system
The function of the process is to evenly mix all sorts of materials before organic fertilizer pelletizing. We have horizontal mixer, double shafts horizontal mixer, disc mixer for your reference. Then, it can make you easily enter the next granulation process.
---
Organic mixed materials granulating project
It is an important step during the project of organic fertilizer production. During the procedure, granular organic fertilizer machine you need is fertilizer granulation facility. Then, the conveyor will transport mixed fine powder organic materials into pelletizing machines for granulating. Finally, you can choose granulating machine by the capacity of your requirements.
The process of organic fertilizer screening
For getting high quality and qualified pellets, the process is necessary. By using rotary screen machine, unqualified pellets will be chosen out. Meanwhile, the size of organic fertilizer pellets can be optional. Furthermore, in order to get beautiful appearance, using organic fertilizer polishing machine is possible. It is with high ball rate, and no return material, good strength and strong practicability. Do you want one ?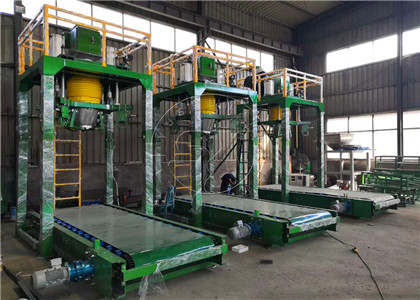 Qualified organic fertilizer bagging process
The last process is that you should put them into bags. The weight of bag is can be optional, 5kg, 15kg, 25kg and 50 kg are available. In order to reduce the labor cost, bucket automatic packing scale is helpful. Our company has double bucket packing scale and single bucket packing scale for your inference.
The above is the complete organic fertilizer production line. If you have any interest, please contact our company.
---