---
What does a granulation pan for making fertilizer look like?
Disc granulator(also called pan-shaped machine) is an important part of organic or compound fertilizer production production line in our company. Disc pelletizer machine is widely used for producing round granules of organic fertilizer and compound fertilizer. By this way, fertilizer pellets are convenient for transportation and storage. In terms of the features of its wide application and highest pellletion ratio up to 93%, a fertilizer granulator is an ideal pellet machine for your fertilizer production among a bit of machines. There are various models of fertilizer pelletizers which differ from inner diameter, side height, and rotating speeding in our company. Besides, as a disc granulator supplier, eco-friendly pan granulation machines in different production capacity can meet our client requirements. In a word, it has the big perception and potentiality of fertilizer granules producing companies among the global.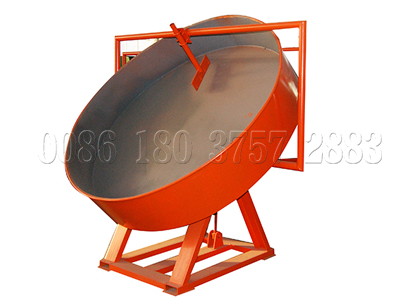 Specifications of disc granulator machine
| Mold | Diameter of Disc (mm) | Edge Height (mm) | Rotary Speed (r/min) | Motor Power (kw) | Capacity (t/h) | Model of Reducer (kw) | Dimensions (mm) |
| --- | --- | --- | --- | --- | --- | --- | --- |
| YZ-600 | 600 | 280 | 33.5 | 0.75 | 0.55-0.1 | BWY0-43-0.55 | 800*700*950 |
| YZ-800 | 800 | 200 | 21 | 1.5 | 0.1-0.2 | XWD4-71-1.5 | 900*1000*1100 |
| YZ-1000 | 1000 | 250 | 21 | 1.5 | 0.2-0.3 | XWD4-71-1.5 | 1200*950*1300 |
| YZ-1200 | 1200 | 250 | 21 | 1.5 | 0.3-0.5 | XWD4-71-1.5 | 1200*1470*1700 |
| YZ-1500 | 1500 | 300 | 21 | 3 | 0.5-0.8 | XWD5-71-3 | 1760*1500*1950 |
| YZ-1800 | 1800 | 300 | 21 | 3 | 0.8-1.2 | XWD5-71-3 | 2060*1700*2130 |
| YZ-2000 | 2000 | 350 | 21 | 4 | 1.2-1.5 | XWD-71-4 | 2260*1650*2250 |
| YZ-2500 | 2500 | 450 | 14 | 7.5 | 1.5-2.0 | ZQ350 | 2900*2000*2750 |
| YZ-2800 | 2800 | 450 | 14 | 11 | 2-3 | ZQ350 | 3200*2200*3000 |
| YZ-3000 | 3000 | 450 | 14 | 11 | 2-4 | ZQ350 | 3400*3400*3100 |
| YZ-3600 | 3600 | 450 | 13 | 18.5 | 4-6 | ZQ400 | 4100*2900*3800 |
---
Which type you can chose for making disc type granulator machine?
In our company, pan granulator is professional official equipment. The disc granulator design adopts advanced wet granulation method or technology of manufacturing process. All disc type granulator parts are consistent with mechanical and physical principles. Therefore, it can have highest granulating rate among fertilizer granulation machines. Aiming to the capacity of disc granulation machines, top 2 types can be optional in our company.
Mini disc granulator for lab
As we known above, dis pan granulator is the shape of round ball plate set on the top of a sturdy base plate. However, for a mini type, our engineers give the detail descriptions of disc granulation machine. On the one hand, it has small size shape on pan granulator dimensions compared with large scale types. For small scale 0.6 pelletizing disc plant, mini disc granulation equipment is so popular for its small cover area. On the other hand, its small capacity decides it can be only used in small scale fertilizer production line. 0.5t/h small pan granulator is select for our clients. Meanwhile, it is the most economic fertilizer granulators process in our company. Why not have a try for your small fertilizer plant?
50 t/ h disc granulators for sale
Disc pelletiser 50t makes a great contribution of modeling the performance of disc granulator in fertilizer production in 2018. The desire to operate pan granulation machine to produce at least 50 t/h capacity of fertilizer pellets comes true. How to make it? According to the design, the amounts of disc granulation machine can be added and decrease. Therefore, the capacity by means of increasing amounts is possible. On the other hand, custom service can help you get 50t/h pelletizer disc settings. How do you think about it ?
---
What kinds of advantages of high output fertilizer disc granulator can attract you to buy?
High quality granulation rates Adopt whole arc disc angle, the granulation rate can reach above 93%. Then, having three discharge ports makes it convenient for intermittent production, greatly reducing the labor intensity and improving labor efficiency.
Advanced materials for manufacturing process of disc pelletizer The material adopts stainless steel plate which makes the fertilizer equipment use for a long time.
Disc granulator operation system is fully automatic. Automatic material clearing plate above the sticking materials, improving service life of equipment and saving labor. It only needs a control panel box for granulation machine to work. Therefore, it can save more labors for some small scale disc pelletizer iron ore pellet plant.
Reasonable price as a pan granulator manufacturer We belong to direct selling, not third party. Therefore, you get more details of products and price list without any agency cost.
---
What do you need to know about a diagram of a typical pan granulator?
The design of pan granulator working principle is very simple. Therefore, it is popular in industry. And construction of disc pelletizers is consist of several parts, the whole design is elaborate and durable. The parts are alternatively the disc, the gears, the motor and decelerator and the transmission belt. All of them plays important roles in the process flow diagram for disc pelletization. Now we will introduce them separately.
The disc/ pan/ ball plate
The disc is lined with high strength glass fiber reinforced plastics, anti-corrosion and durable in use. Disc bottom uses multiple radiation steel plates to reinforce, sturdy and durable, never deform. Sturdy base design, no need for foundation bolt, smooth running. Automatic material clearing plate above the sticking materials, improving service life of equipment and saving labor. The design of the disc can ensure the high ratio of granulation, the yield ratio is up to 93%! The relation of pan granulator diameter to capacity ratio is in direct proportion.
Gears of pan granulator machinery
Gears adopts high-frequency quenching, which doubles the service life.
The motor and decelerator
These parts are powerful and reliable, with long service life. The motor sizes and models of the machines are listed in the disgram of the pan above.
Transmission belt
Motor and reducer adopts flexible belt drive, ensuring a smooth start and increasing the service life of equipment and ease the compact strength.
---
How to produce round granules in disc granulator?
How does a disc granulator system work? Now we will introduce pan granulation process of round pellets.
Firstly, adjust the angle of disc organic fertilizer grnaulator, make it tilted about 40˚-55˚ off the ground.
Secondly, start the machine. After the disc rotates, add the raw materials into the pan from the inlets atop, make them tumble with the big pan.
Finally, as the materials diminish, fill more materials into the rotary.
The granulation plate has three outlets, which can work alternatively. The first is for feed port, the second is qualified disc pellet working out, the third is return unqualified pellets port which restarts the granulation process. So you can continuously feed the disc fertilizer granulator when it is necessary to keep it working. In this way, you can achieve mass-production continuously by our fertilizer equipment.
---
What angle should the disc granulator work to get qualified fertilizer pellets?
In order to get suitable pellets, the angle design of pan granulation machine is adjustable from 1˚ to 90˚ in the line with flat ground in our company. The angle between pan plate and the flat ground decides the size of fertilizer pellets. When the angle reaches up to 65˚, the size of fertilizer is smaller. The angle varies under 40˚, the size become larger. Therefore, the proper angle (40˚ -60˚ ) is key to get qualified fertilizer granulars. During this period, qualified fertilizer pellets is available. Please following our instruction of guideline or our sales manage advice to operate disc granulation machine.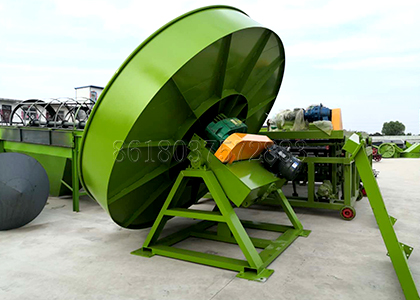 ---