---
Specific of horizontal fertilizer mixer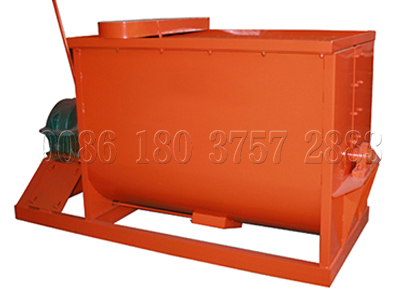 Horizontal mixer machine is mainly used for mixing powder material evenly in a short time according to the formula. As a raw material blending equipment, it plays an important fertilizer equipment in the process of making fertilizer, especially organic fertilizer production line and compound fertilizer process. Therefore, it is necessary for granulation in industry. What is more, with the features of high mixing, uniformity, low material residue and high capacity, the fertilizer horizontal mixer we can widely use, our company can provide you with three popular types, traditional horizontal mixer machine, double shafts horizontal mixer, single shaft mixer. Meanwhile, we can offer custom service to you according to your requirements. We welcome you to join us and visit our factory as soon as possible.
---
Main 3 types horizontal mixing machine for sale
As we mentioned above, there are 3 popular types in our company. It can be divided respectively into traditional type, double shafts one, single shaft one. With different functions and capacity, different types or models can help you solve different problem.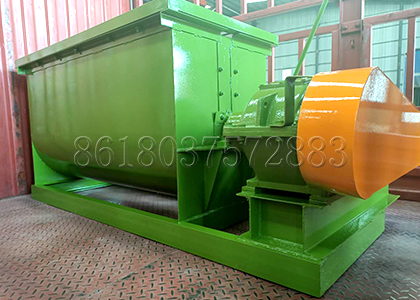 Small traditional horizontal type organic fertilizer blender
Small traditional horizontal organic fertilizer blender with small capacity which we can operate it at the small fertilizer plants. When it works, other additions can be poured into the mixer under the right formula. By this way, it can improve the fertilizer effect quickly. The work principle of traditional horizontal type is very simple. That means the material in the fertilizer machine can be operated by two opposing rotors making compound motion. Meanwhile, the slurry drives the material to rotate counterclockwise along the inner wall of the machine groove. On the other hand, it drives the material to turn around, forming a weightless zone outside the overlap of the two rotors. In this area, no matter the shape, size, and density of the material, the material can be floating in an instantaneous state. It is can achieve fast and soft mixing uniform effect.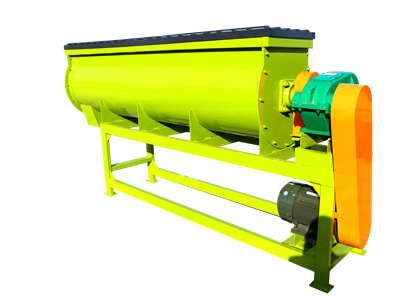 Single shaft fertilizer mixer
It belongs to a kind of horizontal mixer for fertilizer. Single shaft mixer is suitable for continuous mixing in mixed powder fertilizer. Our engineers often place it after automatic batching equipment. Meanwhile, it can not only produce organic fertilizer, but also compound fertilizer. Therefore, to some extent, this kind of machine can help you reduce the investment cost. In addition, it is very easy to operate it. When the automatic batching equipment works, the materials will go into the mixing tank, pass through a group of double helical ribbon type blade. Then, it stirs uniformly. Finally. The material will enter next granulation process. The process of mixing is available for large scale capacity. How do you think about this mixer? If you want to know more, please tell us as soon as possible.
The structure of single shaft horizontal mixer machine
As we can seen from the picture, there are two sets of blades, one on the outside which is responsible for outputting the material from front to back; Another on the inside, which is responsible for mixing the material. Then it is can continuous discharge, and putting materials in the front and then evenly output after stirring. Then the process of mixing is over. In addition, all the materials (manganese steel ) , is from steel, as a typical anti-wear steel, which is an excellent material for crushing and mixing parts. Therefore, it is worthy to purchase.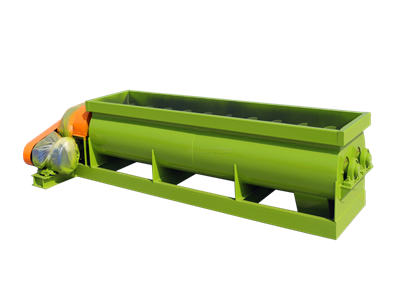 Horizontal rotary mixer for fertilizer with double shafts
Double paddle groove type mixer is popular in fertilizer industry for its high work efficiency. Our engineer mainly use it to mix fertilizer powder weather it is organic fertilizer or compound fertilizer. Relatively speaking, it can achieve continuous mixing. Compared with the two former, the structure is more complex. This kind consists of a pair of screw shafts with opposite rotating. Otherwise, the capacity is the largest one among three types. Therefore, it is necessary to produce fertilizer in industry.
The structure of double shafts horizontal mixer
It is equipped with a horizontal cylinder. There are two main shafts on which welded many small shovels for blending. The shovel are made of no bust carbon steel which is thick enough to blend and crush heavy duty fertilizer particles. Horizontal engine drives main shafts rotating. There is polypropylene material coated on the inner line to prevent corrosion. There is reduction gears matched to ensure stable performance. The tactical design of mixing drum and rotating shafts make materials completely and evenly blending.
---
Horizontal fertilizer mixing machine features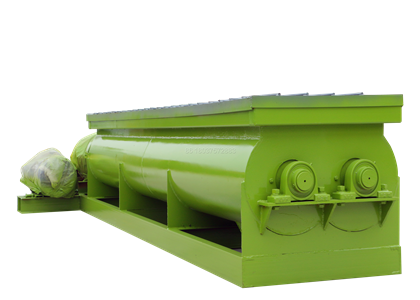 New rotor design. Minimum clearance between rotor and the mixer body can be adjusted approaching zero, which reduces residual.
Value of raw materials. Materials are mixed evenly in the blender, with the improving of mixing uniform.
We can make materials with larger size crush during mixing.
More reasonable body design, excellent in shape, and easy-operation and maintenance.
Fast mixing speed, good mixing uniformity, fast discharging speed, low material residual.
Adopt stainless steel spiral blade with hard steel tool bit, good wear-resisting performance, long service life.
---
Applications in the process of horizontal fertilizer blenders line diagram
Use it alone. For fertilizer industry, people can only mix powder fertilizer by its own features. The whole process of horizontal mixer machine line diagram can make you very clear.
Use it in the fertilizer production line. It plays an important role to make materials into fertilizer. It can mix the fertilizer evenly.
---
Cost of horizontal fertilizer mixer model in our company
Fertilizer blenders mixers is very useful and popular around the world. Meanwhile, it plays an important role in the process of making manure into fertilizer. However, the price of this fertilizer equipment is very reasonable. Why do you think? Now there are three factors to influence the price to some extent.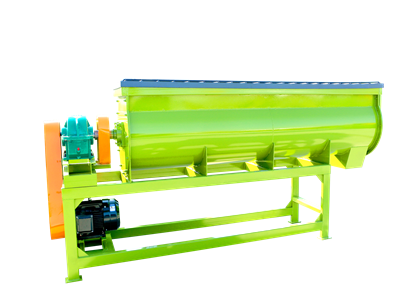 Firstly, we specialize in this area for more than 20 years, including import, export, even custom service. Therefore, we can offer professional technology and excellent fertilizer mixers to you. At the same time, it decides that we can provider you with high quality service. Choose our company, we can make a big progress hand in hand.
Secondly, as a fertilizer manufacture, we you can buy products directly, not by third party. So the price difference is not possible. Honestly speaking, it can reduce the budget for business. What is more, our company can offer you details about custom service and give you professional solutions and technique support. Finally, welcome you to visit our factory.
At last but not least, as a China manufacture in fertilizer equipment, our price and cost is fair and transparent to all clients. Generally speaking, we can offer you more fair condition when you purchase suitable products.
---